Pour cette 6e édition 4 tournois sont programmés:
l'open + 1900 elo,
l' open - 2000 elo, l'open des Jeunes - 1300 elo
et
un blitz sur la plage
le 2 juillet à 21h.
Les parties se jouent en 9 rondes de 1h30 + 30s avec possibilité de norme et de performance FIDE.
Par ailleurs, le championnat de corse individuel est intégré à l'open des + de 1900 elo. Le premier joueur du classement de l'Open de Purtichju est sacré champion de Corse 2019.
Les joueurs et accompagnants bénéficient de tarifs spéciaux d'hébergements et de restauration.
For this 6th edition 4 tournaments are scheduled: the open + 1900 elo, the open - 2000 elo, the Youth Open - 1300 elo and a blitz open on the beach on July 2nd at 9pm.

The games are played in 9 rounds of 1h30 + 30s - Norms possibility : GM, IM...
Very important...


In view of the large number of requests from GMI and MI for the Purtichju Open,
we have decided this year to set up a system that is as fair as possible. All requests will be studied by a committee and proposals will be made based on several criteria:
Rating age, Country of origin, first participation, behaviour during previous participants. But
the most important criterion will be fighting on a chessboard :)
.
If you are a titled player, make your request via email:
open.purtichju@gmail.com.
We will answer you, at the latest
, by the end of February
PS: Last year, several players requested and obtained accommodation. And they didn't come. They are now on a blacklist and it is therefore unnecessary to take any action for all tournaments organised in Corsica
Players and accompanying persons benefit from special accommodation and catering rates.
4 tournois au programme / 4 tournaments on the program
Inscription en ligne / Online registration
Tarifs spéciaux pour les participants / Special rates for participants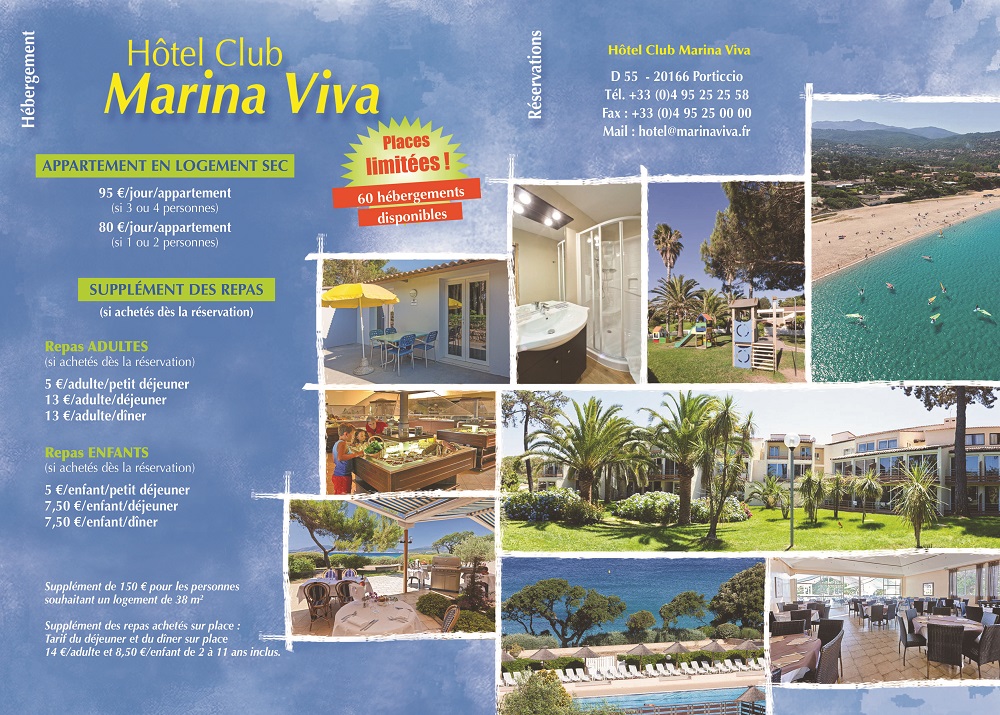 RESERVATION



Attention Places limitées ! - 60 hébergements disponibles.
Attention Limited places! - 60 accommodations available.
Hotel Club Marina Viva
D55 - 20166 Porticcio
E-mail:
hotel@marinaviva.fr
Tel: 04 95 25 25 58
Fax: 04 95 25 25 00