The 22nd Corsican circuit with 85 000 € of prizes!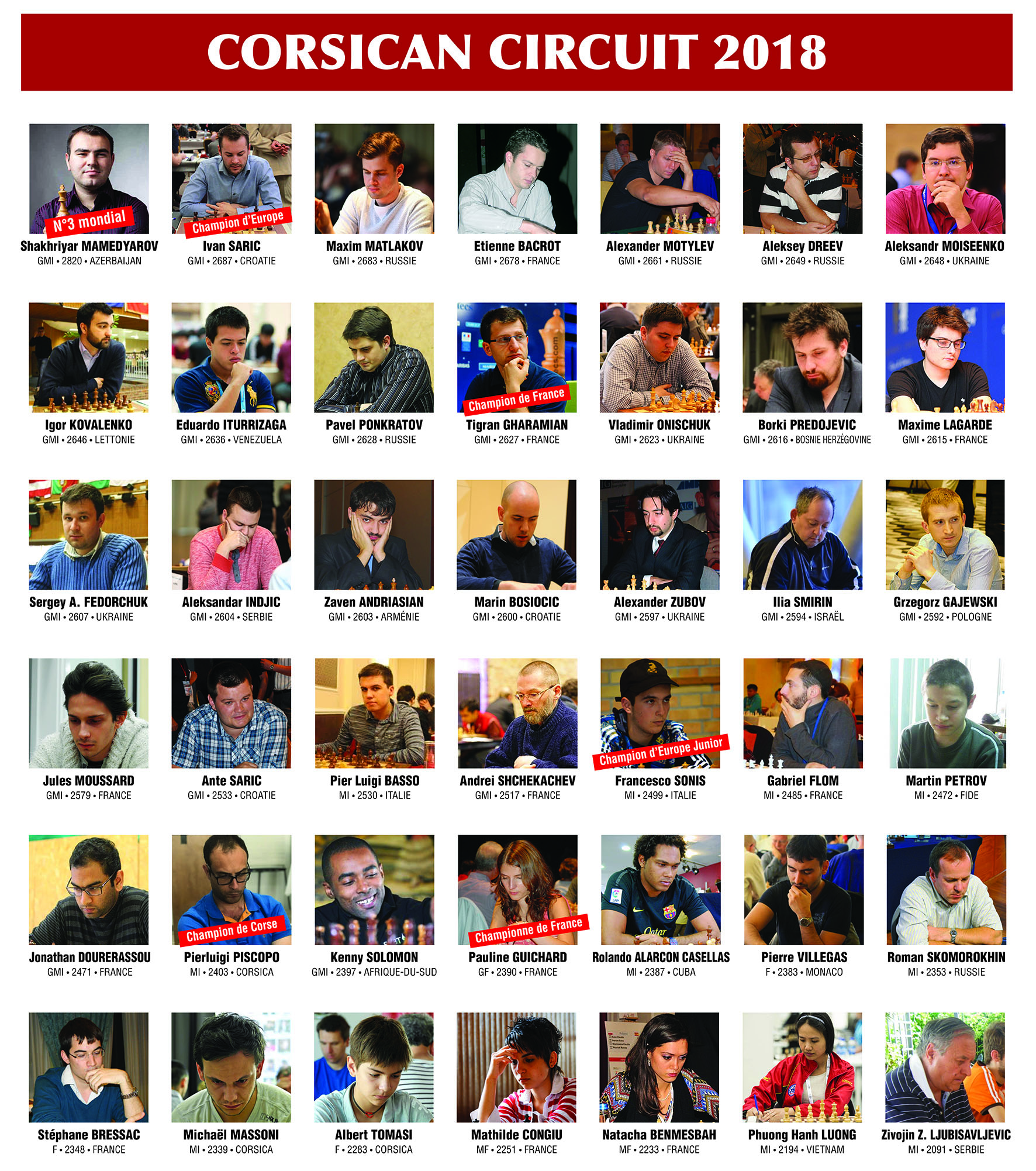 Du 20 au 24 octobre, la Corse sera une capitale mondiale des Échecs. La 22e édition c'est :

800 joueurs, 30 nationalités, 100 bénévoles, 40 sponsors privés Et, surtout, 5 compétitions : l'Open Oscaro, le Blitz Coca Cola, le Corsica Masters Orezza et deux trophées BNP Paribas des jeunes. Le théâtre de Bastia (du 20 au 23) et le Palais des Congrès (24) accueilleront l'événement.



The famous competition of fast games will take place from October 20 to 22 in Bastia, the final in Aiacciu on 24. There will be hundreds of players and many International Grand Masters. Around thirty nationalities will be represented. This is one of the biggest tournaments in the world!
The event benefits from the support of about fifty private sponsors and the support of the Corsican local authority and the town halls of Bastia and Aiacciu.

L'Open Oscaro.com

Tournament of rapid games from October 20 to 21, with 50.000€ of prizes? Sixteen players will qualify at the end of the tournament which will gather more than a hundred high-level players including the best French and European players.
List of players




Corsica Masters Orezza
The top 16 of the Open Oscaro will qualify for the Round of 16 of the Corsica Masters Orezza on Sunday 21 October from 18:00. The games from the 1/8th to the final will be broadcast live on a giant screen and on the Internet. Final in Aiacciu.

Blitz Coca-Cola
Sunday 21st October, from 14h00, with 5000€ in prizes and many gifts in kind, will be an important stop on this 22nd Corsican Circuit.


10th edition with €30,000 in prizes in kind.

The first will take place in Bastia on Saturday 20 October, the second in Ajaccio on Wednesday 24 October. 600 players under 16 are expected for both tournaments.

Bastia - 20 October 2018 at the Municipal Theatre. Registration on site from 8h30 to 9h30. 1st part: 10h00- 9 games of 5 mn + 3s Prize giving: 15h30

Aiacciu - 24 October 2018 at the Palais des Congrès. Registration on site from 8h30 to 9h30. 1st part: 10h00- 9 games of 5 mn + 3s Prize giving 18h00 followed by a banquet.