L'Open Oscaro.com
Tournament of rapid games from October 20 to 21, with 50.000€ of prizes, which will see about forty GMI and MI players compete against each other. Sixteen players will qualify at the end of the tournament which will gather more than a hundred high-level players including the best French and European players and many surprises...



Corsica Masters Orezza The top 16 of the Open Oscaro will qualify for the Round of 16 of the Corsica Masters Orezza on Sunday 21 October from 18:00. The games from the 1/8th to the final will be broadcast live on a giant screen and on the Internet.

Blitz Coca-Cola
Sunday 21st October, from 14h00, with 5000€ in prizes and many gifts in kind, will be an important stop on this 22nd Corsican Circuit.


Bnp Paribas Youth Trophies


10th edition of the two BNP Paribas Youth Trophies, with €30,000 in prizes in kind.

The first will take place in Bastia on Saturday 20 October, the second in Ajaccio on Wednesday 24 October. 600 players under 16 are expected for both tournaments.

Bastia - 20 October 2018 at the Municipal Theatre. Registration on site from 8h30 to 9h30. 1st part: 10h00- 9 games of 5 mn + 3s Prize giving: 15h30

Aiacciu - 24 October 2018 at the Palais des Congrès. Registration on site from 8h30 to 9h30. 1st part: 10h00- 9 games of 5 mn + 3s Prize giving 18h00 followed by a banquet.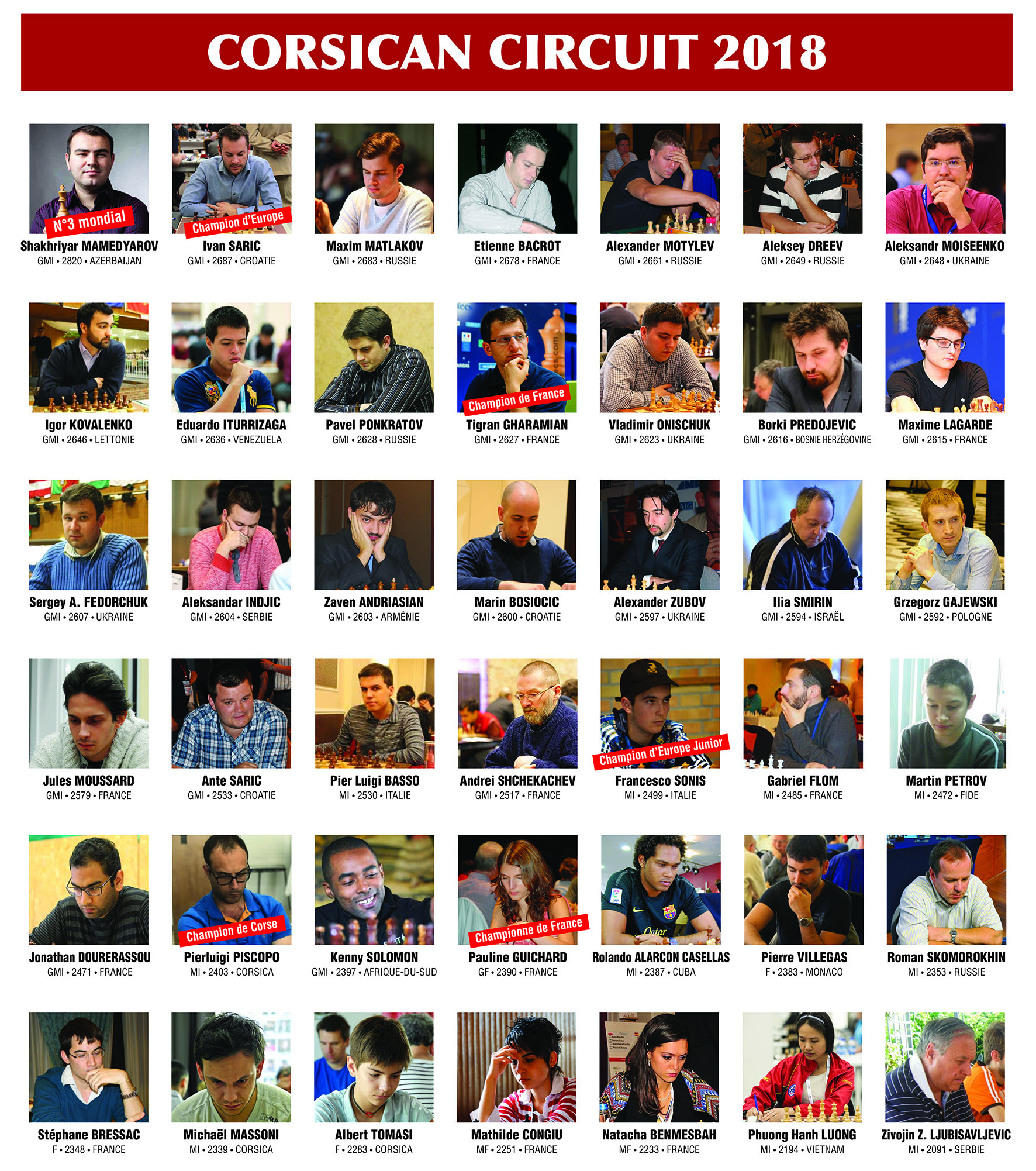 Inscriptions
1 Open de parties rapides , 1 Blitz pour une dotation globale de 55 000 €
2 Trophées des jeunes BNP Paribas dotés de 30 000 € de prix en nature !
Pendant le Corsican Circuit 2018, la 10e édition des Trophées des Jeunes BNP Paribas aura lieu
à Bastia le samedi 20 octobre
(Théâtre municipal) et à
Aiacciu (Palais des congrès) le mercredi 24 octobre.
30 000 € de prix en nature y seront distribués.
Tous les jeunes qui y participeront et partiront tous avec de superbes cadeaux :
Ordinateur portable gamer, console Nitendo Switch, console PS4 Noire 500 Go, tablette tactile Asus, drone avec camera, tablette tactile Lenovo, super Nitendo classic mini, console Nitendo classic mini, micro casque Gamer, camera de sport wifi, livres , médailles commémoratives pour tous les participants.

De superbes lots pour les 3 premiers des catégories elo ! *
Tablettes tactiles Logicom 7, enceintes nomades bluetooth et Lecteurs baladeurs mp3 16 go
récompenseront
les trois premiers par catégories elo
( - 300, -450, -600, -750, -900, -1050, -1200, -1350, -1500, -1650 ). De superbes livres seront également offerts pour les places de 4e à 7e.
Les inscriptions sont gratuites et seront prises sur place le jour du tournoi de 8h30 à 9h30 .
Ces tournois sont ouverts aux jeunes de
plus de 5 ans et de moins de 16 ans et moins de 2000 elo corse* (jeunes de la ligue corse, scolaires et clubs)
ou moins de 2000 elo FIDE ou FFE de parties lentes (jeunes hors ligue corse).
* Le classement elo corse s'applique à tous les scolaires bénéficiant de l'enseignement dans le temps. Les classements individuels sont consultables sur
http://elo.corse-echecs.com/