2 BNP Paribas Youth Trophies with 30,000 € in cash prizes!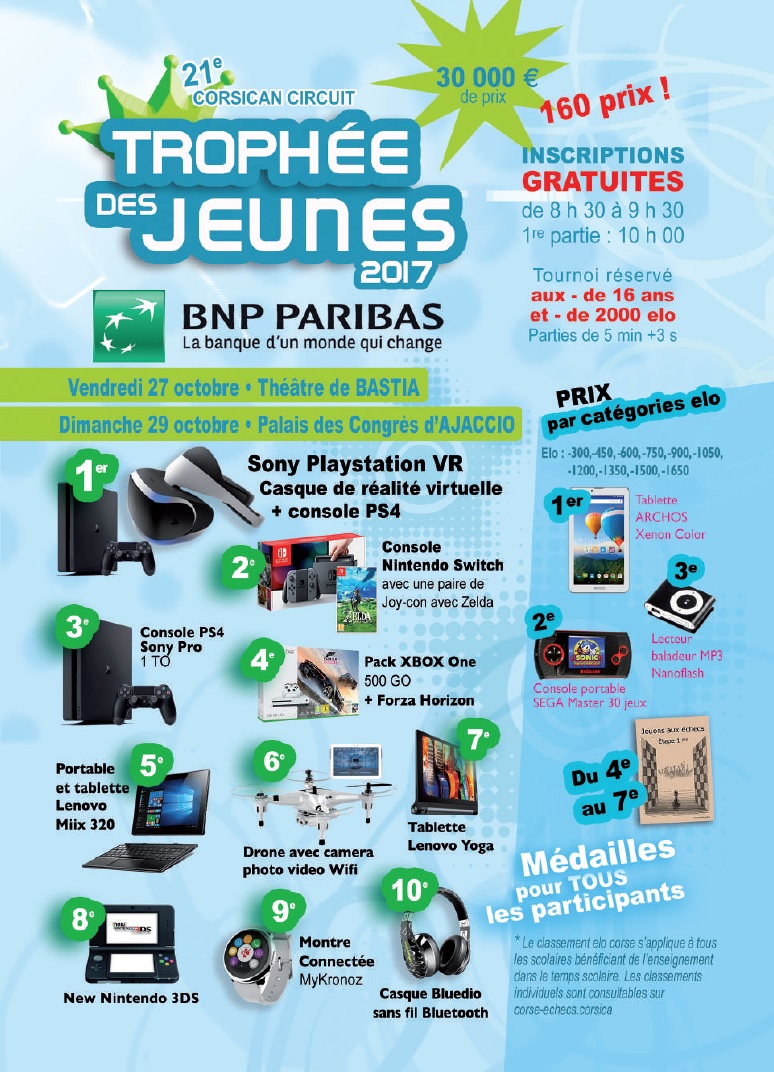 During the 2017 Corsican Circuit, the 9th edition of the BNP Paribas Youth Trophies will take place in Bastia on Friday 27 October (Municipal Theater) and in Aiacciu ( Congress Center)
) on Sunday 29 October.
€ 30,000 in prizes in kind will be distributed.
Sony Playstation VR (Virtual Reality Headphones with PS4 console, Nitendo Switch Console, Sony Pro PS4 Console, XBOX One Pack, Lenovo Miix 320 Portable and Tablet, Drone with Photo Camera , Lenovo Yoga Tablet, New Nitendo 3DS, Connected Watch, Wireless Bluedio Helmet, books, commemorative medals for all participants.
Great prizes for the first 3 categories elo!
*
Archos Tablets, Sega Portable Consoles and Mp3 Players will reward the top three by elo categories ( -300 , -450, -600, -750, -900, -1050, -1200, -1350, -1500, -1650).
Great books will also be available for the 4th to 7th places.
Entries are free : the day of the tournament from 8:30 am to 9:30 am.
These tournaments are open to young people

over 5 years old and under the age of 16 and under 2000 elo corse * (young Corsican league, school and club)

or less than 2000 elo FIDE or FFE of slow parties Corsica).
* The corso elo classification applies to all schoolchildren benefiting from teaching over time.
Individual rankings are available on http://elo.corse-echecs.com/